Go back
NEW! Hate speech course cohort starting 14th February
30/01/2019
Registration is open for the new cohort of the Facing Facts online course on hate speech!
Sign up now and join the new cohort starting on 14th February, Thursday.
In the past months, we've been working on restructuring the Facing Facts Online platform and the courses in order to provide participants a better learning experience. We are committed to making online learning fun, exciting and useful! For this purpose, we are now reintroducing cohorts so that the learning process can be optimized.
What do you need to know about the cohorts?
The next cohort starts on 14th February and will grant you access to the course content for 6 weeks. As a basic user, you will be able to access all course content, interact with other participants and complete activities. In order to earn a course certificate upon course completion, you must enroll as a premium user.
The current English hate speech course will be closed by the 5th February.
What else is new?
The courses will focus more on discussion forum activities with the help of an assigned tutor, so that a valuable exchange of experiences and knowledge can complement the course material. There will be an introductory online tutorial in the beginning of the course and we also aim to have one webinar per cohort as an addition to the course.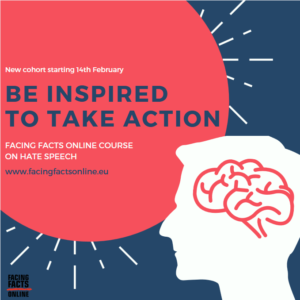 Why earn a certificate?
Studies show that aiming for a certificate helps to keep the motivation throughout the course, as well as it increases the sense of achievement upon course completion. It can also help to boost your CV or Linkedin profile (our badges can be added there directly) by demonstrating that you master the topic. Since we are not for profit, this way you can also support the platform and the course developments.
Click here to register immediately!
For a detailed course description, click here.