We are a leading provider of education and training opportunities that develop respect for diversity and the skills to succeed in a multicultural Europe. We offer a wide range of programmes through well-functioning, self-sustainable national and European structures.
CEJI offers short and long-term training courses (including courses for trainers) and programme development opportunities to address the specific needs of schools, youth and public authorities among other stakeholders. We have also developed training programmes to address particular social needs.
The educational basis of CEJI's programmes is the anti-bias approach devised by the ADL's A WORLD OF DIFFERENCE® Institute. This approach counteracts prejudicial thinking and promotes respect for diversity in society by developing empathy, promoting self-esteem, encouraging critical thinking, demonstrating diversity and inclusion and underlining the importance of social action.
All programmes are adapted to various national contexts and are adaptable to the needs of the target community.
Religious Diversity & Anti-Discrimination Training
The Religious Diversity and Anti-Discrimination training programme provides an educational process that transforms obstacles presented by different perspectives on religion into opportunities for social transformation.
Overcoming Antisemitism
The need to confront antisemitism where it exists, and to prevent it from spreading, is therefore an urgent need and a concern for all – Jews and non-Jews – wishing to live in societies that are free from hatred. This training course seeks to develop an understanding that Jewish identity has diverse expressions.

Overcoming Islamophobia
The recent recognition and identification of islamophobia means that comparatively little data is available on it (in contrast to antisemitism which has been well-documented for centuries). However, there can be no denying that the position of Muslims in European societies is under extreme pressure due to inflammatory discourse. Moreover, public opinion is often fed with generalised and prejudicial messages about Islam and its followers.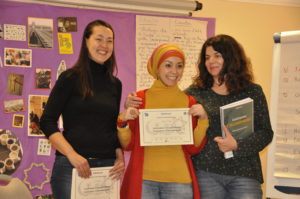 A CLASSROOM OF DIFFERENCE™
The CLASSROOM OF DIFFERENCE™ enhances the awareness and skills of the school community to be able to embrace diversity, confront discrimination, and create inclusive learning environments where all pupils can succeed. Using the methods and materials of the Anti-Defamation League A WORLD OF DIFFERENCE® Institute, A CLASSROOM OF DIFFERENCE™ provides training and curricular tools for teachers to develop effective classroom strategies.
Reconciling Religion, Gender and Sexual Orientation
Any examination of the challenges faced by those living in religiously diverse societies shows that some of the most sensitive topics revolve around issues of gender and sexuality, i.e. the role of men and women, sexual and reproductive rights, and conflicts of rights (real or perceived) between religious rights and gay rights. We need to find productive ways to transform the discourse around these issues, raise awareness of other perspectives and views, and find ways in which they can be reconciled so that all people can express their full identity with mutual respect for our rights and responsibilities.
Facilitation Skills
This module is designed for educators who seek to gain a deeper understanding of their role as facilitators of learning. Participants will develop facilitation skills, gaining techniques, tips and methods for increasing their effectiveness with the groups with whom they work. The course will cover different frameworks and models within which to analyse people's behaviour and help to determine options for intervening in complex situations.
Taking Action
This training programme supports trainers and participants in the development and implementation of their personal, professional, community and organisational action plans. It is also relevant for people who wish to deepen their capacity to facilitate action planning with various groups on various issues.